Toyota connected services that you will love during Winter Season
Toyota connected services that you will love during Winter Season
Posted on April 6, 2023
Toyota connected services that you will love during Winter Season
Toyota is the reference in this area regarding connected services. The introduction of the all new generation of Toyota multimedia system last year, has brought even further more functionality to Toyota vehicles and has made life inside your Toyota vehicle more attractive, especially in winter. We present you here some of the most impressive Toyota connected services, putting emphasis on winter.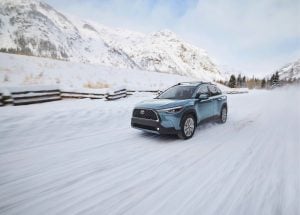 Remote Connect
Toyota remote connect services allow you to have access to your new vehicle using your mobile phone. This way you will be allowed to be connected to your Toyota remotely through your mobile application, verify the state of your doors, verify the quantity of fuel available, or also to start the air conditioning controls, in a way that when you will enter your Toyota this winter, you will fell warm.
Destination Assist
Destination Assist allow you to put you in contact with a real person by just pressing a button. That person will then help you find your destination, to show a way or to assist you in other areas. This function can be helpful all year long, but can be beneficial in the midst of a blizzard and when you really need help. It is reassuring to know that you can speak to a real person simply by pressing a button.
Safety Connect
Toyota Safety Connect functionality systems are similar to those you already have with Destination Assist. With Safety Connect, you are once again connected to a real person in case you need help. This can be very helpful if you are stuck, or your battery is low on charge. If you are in a situation whereas you need help this winter, all you need to do is press the button et you will be connected  directly with someone that will assist you when needed.
Hey Toyota
A lot of new Toyota models 2022 and 2023 offer the new Toyota multimedia system which we spoke about previously. This new technology offers a series of functionality, for instance up-to-date traffic in real time and up-to-date airway, in order to have always up-to-date functionalities. Moreover, the new multimedia system offers advanced vocal controls. By saying "Hey Toyota", you are immediately connected to infotainment system, and you can introduce command controls such as start-up heating front seat or the increase of interior temperature. This facilitates sorely the tuning of different functions to keep you warm in winter, but that allow you also at the same time setting up different functions without removing your gloves or without consulting the different menus.
With Toyota connected services, driving in winter is always pleasant. Call us today to find out more about these impressive functionalities together with all other ways on which Toyota ease driving in winter for their owners in Mississauga
To see our models that include Toyota connected services, click here.